Doctors' and Students' Perspective on the NMC Bill, 2016

PlexusMD surveyed 2500+ doctors and students across the country to hear the most important voice in the debate – here are the key findings
---
Background:

On 15th December this year, the Union Cabinet approved the National Medical Commission bill. The bill, which was first proposed by Niti Aayog in June 2016, seeks to replace the existing Medical Council of India (MCI) with a new body called the National Medical Commission (NMC). The proposed Act endeavours to overhaul the regulation and governance of medical education in India and make it more transparent and democratic.

PlexusMD Survey:

In August 2016, PlexusMD conducted a survey among doctors across India to understand their perspective on the various provisions of the Bill. 1400 doctors and 1086 medical students across 375 cities participated in the survey. On 1st September 2016, we consolidated the feedback and recommendations into a report titled "Doctors' and Students' Perspective on the NMC Bill, 2016" which was forwarded to Niti Aayog for due consideration. You may read our report here: http://bit.ly/NMCfeedbackPMD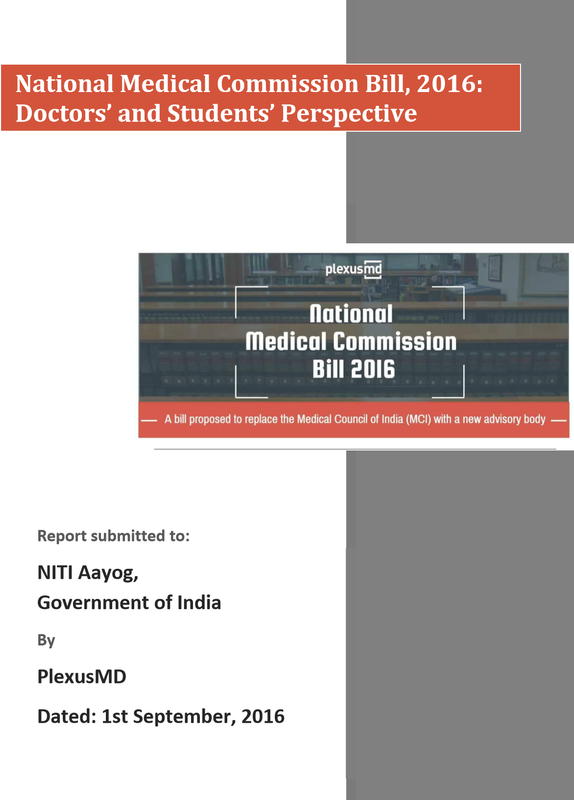 Key takeaways: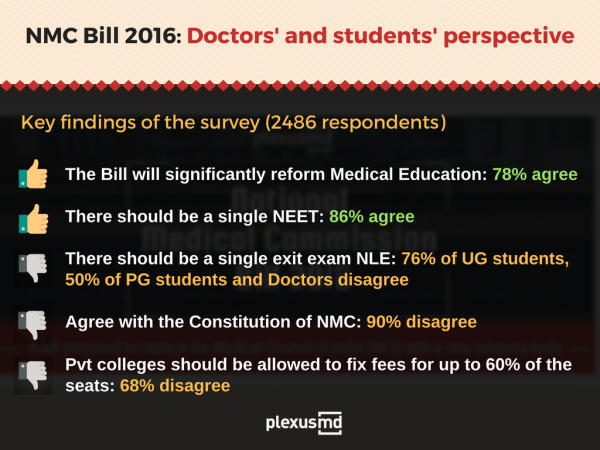 1. An overwhelming 78% of respondents felt that the overall Bill is actually in the right direction and will have significant impact in reforming the Medical Education system in the country

"It's about time to have these regulations in India"

"Medical education system definitely needs overhauling. Formation of 4 different Boards is indeed an excellent move"

"Overall, the bill is progressive one. MCI has completely failed to do its job. Therefore, medical education and practice in India needs a major revamp"

"Mere changing name and few rules won't change the entire medical education system"

"It should not be old wine in a new bottle&"

"More radical move needed like nationalization of private medical colleges and creation of national medical education service, like IAS or IRS"

2. However, 90% of the respondents said they would like more representation from the medical community in the NMC and its advisory council

"NMC members should be between 30 and 50 years of age. For medical professional to be represented within the NMC both private and government medical faculty must be included"

"The NMC needs to have senior, non-corrupt & the best doctors (who are leaders in their field) from good institutes like AIIMS /PGI/CMC. Also they should be elected & not selected."

"The medical profession itself seems to have a meagre presence in this entire arrangement. The panel formed by Niti Aayog itself has no practicing medical persons. Furthermore, at later stages also, take representatives from leading medical institutions (Govt & Pvt.) and not just bureaucrats. Also take representatives from IMA, API and other associations of specialists for feedback on various specialities. The intentions seem to be good but they need a more practical outlook."
3. 68% of the 2486 respondents believe that Private Medical Institutes should not be allowed to set fees for 60% of their seats

Most of the respondents have recommended that the proposed 60% is too high and the private medical institutions should be allowed to set the fees as they deem fit for no more than 40% of their seats. A few Faculty and doctors have suggested allowing private medical colleges to set the fees for 60% seats but with an upper limit cap as specified by the NMC.
One of the doctors suggested: "Government should create a corpus 'National Medical Education fund' that can provide educational loans at 3-4% interest rates to UG/PG students for studies in private medical colleges, to be repaid after completion of course"
4. 86% respondents agree with the provision for a single NEET

Most of the PG students, Faculty and Practising doctors believe it is a good idea, as compared to 78% of the UG students. The biggest grievance against NEET from the Pre-PG Cohort is that Standard 12 syllabus differs between State and CBSE Boards and hence the State Board Students might be at a significant disadvantage when it comes to clearing NEET.

Quite a few Faculty and Senior doctors have also recommended that the Syllabus for Standard 12 be made uniform across the country as a prerequisite to conducting a single NEET.

5. On the provision of an exit exam post MBBS which will also serve as an entrance test for PG courses, the opinion was divided: 45% of the respondents are in favour of introducing the NLE

A majority of the respondents have stated that the NLE/Pre-PG Entrance Exam as proposed by the bill serves to fulfil 3 very different purposes - Admission to PG, License to Practice with registration in the National Register and License to Indian doctors with foreign degrees to practice in India. All these 3 objectives are very distinct and the exams and their formats should be different.

A few respondents who oppose the NLE have observed the major oversight in the Bill regarding those students who do not wish to practice in India or pursue PG Studies but wish to opt for UPSC/MBA/Law/USMLE.
The Bill does not specify whether such students need to clear the NLE and any stipulation that NLE should be mandatory for them would be unjustified.
Key Recommendations from the survey respondents on the draft bill:

Please refer to pages 18 to 31 in the detailed report to view chapter-wise recommendations provided by Doctors across India. You may download the report here: http://bit.ly/NMCfeedbackPMD
A young doctor summarises it well: "The new ideas are all good. The problem lies in effective implementation and honest application of these ideas/ measures to ensure the desired results and correct picture of merit based selections, and the deserving getting the medical college admissions. The need is more on focussing on a fair and uniform test across the length and breadth of the country, without money power, political power spoiling the test and defeating the very purpose of such a test or tests. And that requires very high level of integrity and unwavering determination on part of agencies conducting the various tests or other modalities? How far we will go is anybody's guess. Just changing the format from one to other is not likely to bring any radical changes sought to be affected. It will require radical action or actions."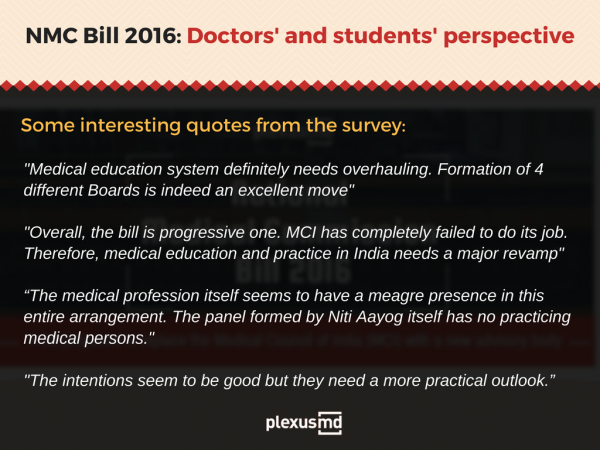 ---
About Author
Senior Manager at PlexusMD
PlexusMD Newsdesk covers important news and developments that impact Doctors, students and healthcare organisations. We strive to bring you detailed and accurate analysis of important stories as they happen.
M●●●●a P●●●a
and
9 others like
this
12 shares