The extraordinary story of Padma Vibhushan Dr. V. Shanta and her journey with the Cancer Institute (WIA)
The lady who personifies care, compassion and charisma
She is a strong woman, full of compassion and wisdom mustered well over nine decades. Padma Vibhushan recipient Dr. Viswanathan Shanta, 90, a lady whose passion for care is evident both in her words and actions, is a phenomenon that happened to India when Cancer Care seemed like a distant dream. A part of Cancer Institute (WIA) in Adyar, Chennai since its foundation day, Dr. Shanta has since then steered the institute to top ranks and has been significantly instrumental in making state-of-art treatment for Cancer accessible and affordable to one and all.
This narrative is as much of the Cancer Institute (WIA) as it is of the role she played in its growth as part of a team. "It was always the team", she says.
We bring to you excerpts from our conversation with Dr. V. Shanta, Chairperson of Adyar Cancer Institute, Chennai.
You come from a family of Nobel Laureates. Over the years, how has your family influenced you as a person?
The fact that Nobel Laureates were part of the family only indicates an intellectual family background, which I believe is a major component in molding one's mind and character, especially in one's formative years. It gives one an impetus, an aspiration to do something different. In the period when I was growing up, there were not many women who took up a profession or a career that wasn't in teaching or nursing. Women medical and legal professionals were very few. I felt strongly that I needed to do something that gave me independence and respect in society. I decided to be a doctor when I was in the 8th grade. The phenomenal patience of my mother and her own desire to be a nurse might have had some influence on my choice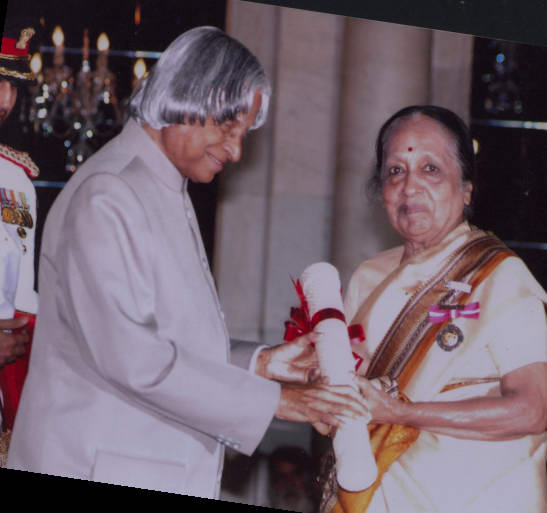 You pursued an MD in Ob-gyn, but finally became the trendsetter for Cancer treatment in India. How did that happen?
In 1940-50s, most women medical professionals specialised in Obstetrics and Gynaecology – very few opted for other specialties. In that way, I believe I followed the routine practice as the avenues back then were very few. My encounter with cancer and Cancer Institute (WIA) was Destiny.
It is just that my first posting as a House Surgeon in 1950 was in the Cancer ward. Meeting Dr. Krishnamurthi, in the newly formed Cancer Unit of the Government Hospital and getting to know his values, principles and the phenomenal medical knowledge that he had, in addition to many other events, influenced my decision to make the switch to Oncology.
In one of your talks, you had mentioned how early on in your career the government had asked the Management of Cancer Institute (WIA) to "Close the Shop" and "Justify the need for a library at the Cancer Institute". From there to being a 500+ bed, state-of-art hospital, what has the journey been like?
Our journey has been long and arduous with its own set of rises and falls that continue till date.
Back then, the most painful and frustrating was the divide between the government and non-government organizations. A non-government organization was never accepted as a co-worker or as a partner, but quite often as a competitor. We did face these terms initially – "close the shop" and "justify the need for a library" – but that only highlighted the ignorance of the people and their mind set at the time. In fact, we have been pioneers in many areas, but most often they have gone unrecognized. Today, however, there is a growing understanding of the services and the institute itself. There have been people who have recognized our work and helped us, both nationally and internationally, and we are very grateful to them.
Thankfully, despite the adversities, the institute has been growing steadily over the years. Ultimately what has mattered to us during the journey was our commitment towards the work we had undertaken.
Would you like to comment on the role of your team at the Cancer Institute (WIA) during this journey?
Way back in 1961, Pandit Jawaharlal Nehru remarked, "I must say that I have been somewhat bowled over by my visit to the Cancer Institute (WIA). I saw a marble slab that I had laid as a foundation stone nine years ago. The progress since then has been phenomenal, extraordinarily rapid, not in terms of brick and mortar but in quality of work. I wish that the many foundation stones that I have laid in different parts of the country for various purposes showed very nearly the same results as this has done. It is an inspiring example of good work done".
A work of this magnitude can only be attributed to the endless efforts of a dedicated team and I am grateful for the opportunity to have been a part of the team and to the team members, without whom we could not be what we are today.
Can you shed some light on what WIA stands for in the name of the Cancer Institute?
Yes, WIA stands for 'Women's India Association,' our founding Body under the inspiring leadership of the Late Dr. Muthulakshmi Reddy. She was the first woman medical graduate in India and the first woman legislator in the world. She was certainly an inspiration, and a true legend in her life time.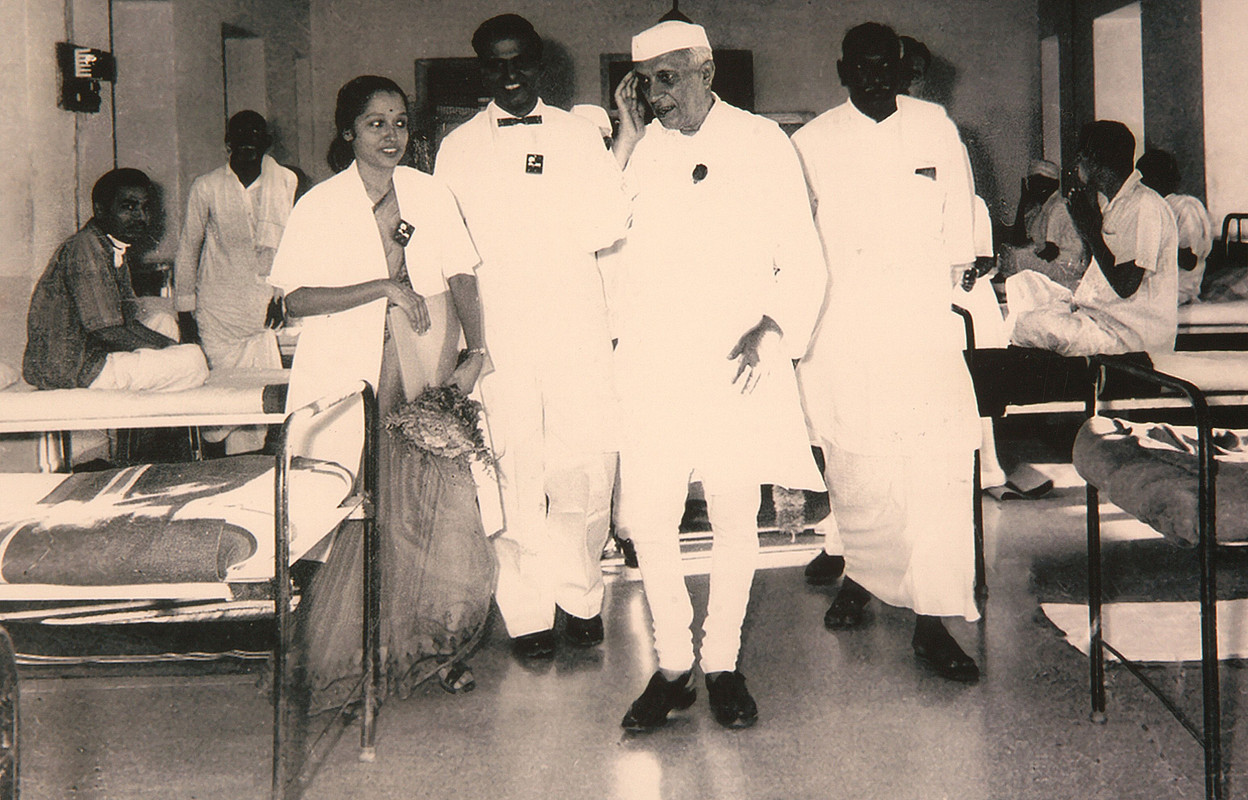 Given that its foundation stone was laid by Panditji, when was the Cancer Institute (WIA)'s 'Tryst with Destiny'?
The installation of the first Cobalt-60 unit and introducing the super voltage era in India was truly our 'Tryst with Destiny'. Over the years we have pioneered many equipment and services and they all have their own stories but this was where it all started for us. The Cobalt-60 unit Eldorado A was donated to us on Christmas Day, 1956 by the Atomic Energy agency.
"We started receiving calls where people were suddenly wondering how we, an institute that operated from Sewagram-type huts, got chosen to receive the Cobalt-60 unit when even the government hospitals didn't have it yet. We woke up one morning to find ourselves famous. It was remarkable!"
From being known as Karma Vyadhi (fatal) to today, how has the perception towards Cancer changed over these past six decades?
We have moved from an era of incurability to curability. Today, two-third cancers can be prevented or cured. However, we currently cure only one-thirds due to presentation of the patient at an advanced stage. This means that sixty percent of cancers are preventable or have methods for early detection. And if they are detected early, they are curable. The other forty percent still evades us. We hope that this too will change over the coming years.
Currently at your institute, what is the annual number of new patient walk-ins and old follow-ups?
At the institute, annually, we see an approximate of 1,65,202 new and follow up patients.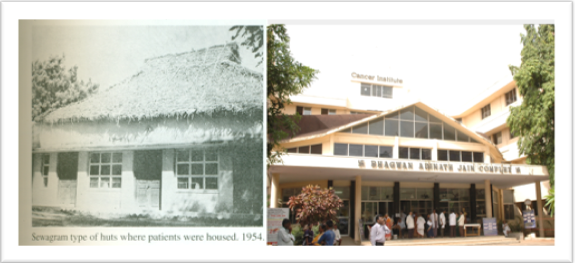 60% of your patients either get treatment free-of-cost or at highly subsidized rates. How do you then manage funds to run this institute with the best care and treatment?
There are a few ways through which we try and make it possible. Fortunately, we have always been very focused on our service, dedication and commitment towards our patients. As a result, the community around us has been generous in their support. Moreover, the income generated from our paying patients is used for maintaining care and treatment in the general ward where the underprivileged patients are treated. Initially, we had received significant international support, but that too has dwindled over the years. As far as the government is concerned, we receive a minimal but continuing support from the state government and occasional support from the Government of India. Because CSR activities have become mandatory for corporates, we also receive decent backing from them. As a team, we continue our fundraisers to support our activities further. While these do help, our greatest challenge still is sustainability.
According to you, what is currently the biggest challenge our country is facing in the healthcare domain, and how should we address it?
To begin with, one of the biggest challenges is to sustain what we have already achieved. We need to keep constant pace with the increasing knowledge and technology in the healthcare domain and match it with our strengths and expertise. Secondly, another challenge is to recruit more doctors with a genuine service orientation, which is made difficult by the general decline in values and principles. To cope with these, the government will have to step in. Health cannot be a low priority issue. Even the most affluent countries need support from their governments. Currently, the governmental support in India is meagre. In fact, we need to have more foundations like the Rockefeller Foundation.
Is there a patient story that you vividly remember and would like to share with our readers?
I remember Padmaja, a 22-year-old bright girl, who was a Research Fellow in the Physics department at IIT-Madras. Back in 1987, she came to me with unaccounted fever and a diagnosis of Acute Leukemia. With scientific management and the newly available chemotherapeutic drugs, she achieved complete remission and remained so. She continued her studies and took her doctorate. Five years later, in 1992, she asked me whether she could go abroad to study further. "What about my follow-up?", she wondered. "You are cured" I said, adding that she only required occasional checks and not a regular follow-up. She was delighted. She applied for a Commonwealth Fellowship in UK and was duly selected. But then came the bombshell – the Medical Board rejected her on health grounds. She came to visit me and said, "You told me I was cured, but see what happened!"
I was furious. Back in the day, that was the perception about Cancer in India. I could not convince the local officer; however, I wrote to Dr. Ray Powles, HoD of Leukemia at the Royal Marsden Hospital and requested his intervention. After a few consultations with the UK Commonwealth authorities, Dr. Padmaja's fellowship was cleared. She went ahead and finished her fellowship in UK.
Padmaja later married a colleague and settled in the US. Today, she is busy with her academics and is a mother to two beautiful children.
Do you still conduct surgeries?
No, since 2005-06, I have stopped operating.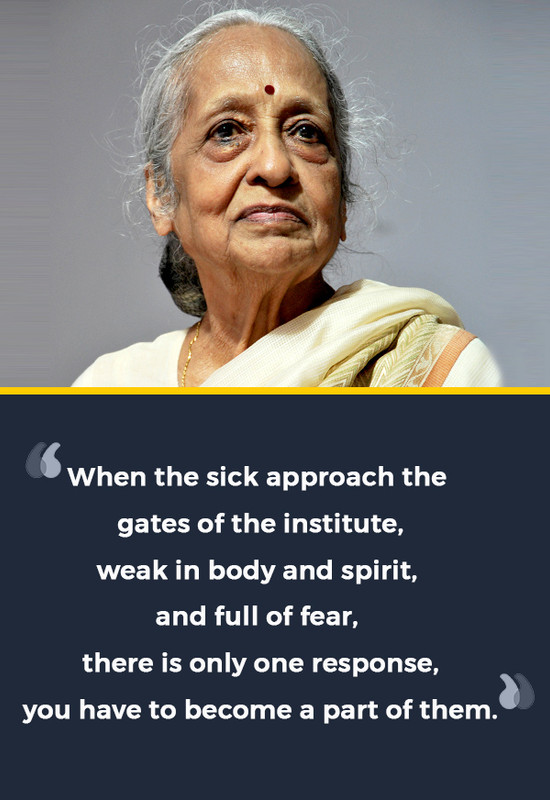 You are so active, what has kept you going?
"The desire to do more and more. Being involved in cancer control, we realize that what has been done so far is infinitesimal compared to what still needs to be done."
And what is it that still needs to be done?
A lot. We as a nation need to do a lot more towards early detection and creation of awareness about prevention of Cancer. Late detection of the disease still constitutes over 60 to 70% of cases. Further, we need to make diagnosis and treatment accessible to larger numbers. A large share of patients still cannot reach a care centre that can provide them treatment, specialty care or even standard care. An insurance for Cancer is becoming increasingly essential. We need to do this while providing affordable care, because with the increase in technology the cost of treatment too is progressively rising. Palliative care is again something that a very small percentage are entitled to in this country and this needs to change. Lastly, while we continue working on these areas, we need to accelerate and continue our research practices to keep up with the latest advances so that our patients get the best care.
You've been a doctor in the times when the patients worshipped their doctors. Today, with so many cases of violence against doctors, where do you think the equation has changed?
I would say that today the doctor-patient relationship is a major concern. All medical professionals take the
Hippocratic Oath
when they complete graduation and enter medical practice. They are expected to abide to "the concept of service to humanity and respect for human life and to do no harm or malice."
Medicine was considered an art- an art of listening, humanity and compassion. As knowledge increased along with the proliferation of sophisticated technology, the art of listening diminished and is gradually disappearing. Medicine which was an art and then a science, slowly reversed to being all about the science and the art component now forms an unequal partner. Technology is the new art of every doctor. We need to realize that a doctor-patient relationship is unique – it is sacred and one of confidence, trust and confidentiality.
'Doctors of India' is an initiative by PlexusMD to bring forth inspiring stories from the medical fraternity.
About Author
Former Associate Product Manager at PlexusMD
'Doctors of India' is an initiative by PlexusMD to bring forth inspiring stories from the medical fraternity. Our mission is to leverage doctor stories that inspire and stimulate the current as well as the coming generation of doctors across India. We plan to interview and publish stories of legends, opinion leaders, doctors who rose beyond the healthcare challenges in India to contribute to the field of medicine and of the doctor-next-door who showed uncharacteristic bravery in testing times! About PlexusMD We are a private and exclusive online community of doctors. PlexusMD (www.plexusmd.com) is currently used by 85,000 doctors across India to stay updated on the latest news and updates in Medicine and get access to the best career opportunities in their specialty. Leading healthcare institutions like AIIMS, Berkeley HealthEdu, Apollo, HCG, NH, Fortis and 300 others use PlexusMD to disseminate their updates and opportunities. If you are a doctor or a healthcare organization, join PlexusMD now: www.plexusmd.com
Dr. M●●●●●d T●●●●●●q
and
65 others like
this
8 shares