A doctor perfecting the art of clinical diagnosis can yield impressive treatment outcomes. While in many cases diagnosis is mostly based on physical investigations, diagnostic tests also play an important role in aiding patient care, especially in screening asymptomatic patients.
However, availing the right health care is not just about the doctor's skills or availability of diagnostics lab facilities. The patient's lifestyle and economic aspects are equally important factors that determines the path that health care procedures should take.
Modern lifestyles have meant that time has become one of the most critical resources at anyone's disposal. Busy work and social lifestyles not only increase the risk of stress and diet related diseases, but in fact squeeze out the time & commitment to preventive diagnosis and care that such patients need. Effective quick in-clinic testing of a few key health parameters can aid doctors in empowering such patient with the right assessment of their health risks even within a single regular consultation visit.
The delay or lack of access to such tests can lead to deterioration of one's health and development of complications making it difficult to treat, simultaneously increasing the economic burden. Point-of-care testing at primary care level can curb the undesired complications occurring due to the undiagnosed disease progression.
Point-of-care diagnostics can also enable early detection of various infections such as HIV, syphilis in asymptomatic individuals resulting in timely management and preventing further transmission. This can have a wide impact on a society's health security.
Availability of instant investigations with rapid results at the point of care can change the face of primary healthcare.
HealthCube's point-of-care diagnostic system is a laptop sized compact module which can perform 25+ major tests. It is easy enough to carry on the go, whether for patient home visits or for healthcamp.
In the clinic, HealthCube can help assess multiple critical health parameters for patients, and enables the doctor to, not only record and share results with patient but also initiate further protocols with right information.
What do you think is the future of point-of-care technology? Will POCT have a greater impact in the rural parts of India?
Also, if you're interested in watching a demo of HealthCube at your clinic then click here and book a free demo:
https://pxmd.co/QOYAV
Source:
healthcubed.com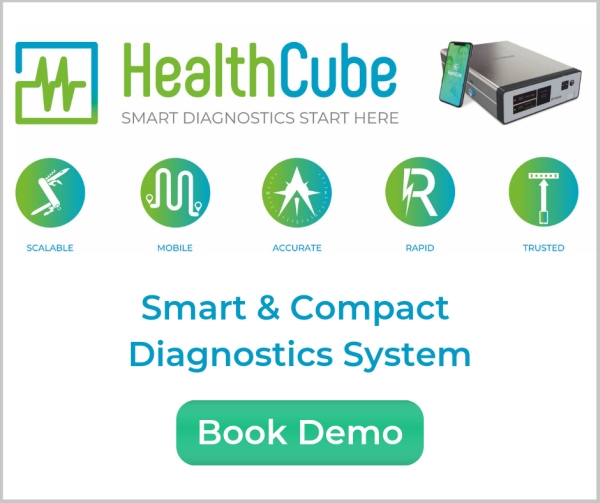 A●●●●g B●●●●i
and
1 others like
this
4 shares