Different medical softwares available for doctors and how do they help
Game changers for practicing physicians, surgeons, clinicians and doctors, medical software completely relieves the burden of managing patient files and records, keeping track of insurance claims and payment structures, and the entire array of HR functions—offering a technologically advanced solution without any of the complexity. This software can help doctors increase their efficiency, reduce costs, save time and improve communication between various departments and the patients they serve.
Applications of medical software
With advanced medical software, the following healthcare-related tasks become much more manageable:
• General administration and management:
Physically storing patient files, staff files and salary payment slips along with bills related to inventory, equipment and general clinic upkeep can be a cumbersome job. Rather than storing physical files, a secure medical software helps in storing all information on the cloud, allowing doctors and staff to save precious time that is better utilized catering to the needs of patients.
• Patient history and record-keeping:
Maintaining a streamlined and quickly accessible record of patients' files is much more efficient thanks to a dedicated software focused on electronic record-keeping. This software captures the diagnosis, treatment suggested and advised medication and also allows you to upload physical records, generating a unique ID number for each patient for ease of recordkeeping.
• Patient insurance and billing:
One of the biggest hurdles in clinic or hospital management is maintaining a patient's billing information and insurance details. Physical files are not only easy to damage but also make easy access very difficult. Thus, medical billing software comes in handy. It has the ability to store detailed insurance and billing information of each patient, thus speeding up the pre- and post-treatment process.
• Scheduling, appointment booking and communicating:
The right scheduling software allows doctors to block their time on the go. This allows reception staff to view updates in real time and also sends automatic messages to patients with the new appointment time in case of delays. A centralized appointment booking software also restricts double booking and clerical errors.
• Inventory management:
If your hospital or clinic runs a pharmacy or medical retail store, you know that physical bookkeeping is a mammoth task. It also becomes a problem to track all inventory and order medications and other paraphernalia when needed or throw away expired stock. An inventory management software will not only help protect your stock from pilferage but also help with internal stock management.
Leading medical softwares in India
Here are the 6 best medical software available in India today that can help doctors ace their practice:
• TCAS (Total clinic automation system) by M2ComSys:
Cost: Rs. 10,50,000 onwards TCAS is a web-based solution that doesn't require any installation. It offers everything from patient administration and electronic charts, to medical billing, lab and radiology integration and e-prescriptions. It helps in efficiently controlling all activities of the clinic, attached labs, and pharmacy, for smooth and efficient functioning.
See more here: https://us.m2comsys.com/products/clinic-automation-complete-ehr-software/


• Accurate Administrator Plus by Accurate Info Solution:
Cost: Rs. 5,00,000 for 25 users Accurate Administrator Plus is designed for a multi-specialty clinic or hospital. It offers patient management, consultation management, inventory management, pharmacy and radiology management and payroll and HRD management as an all-in-one solution.
See more here: https://www.acsonnet.com/hospital.htm


• Hospital Biz Software from DCSINFOWAY:
Cost: Rs. 2,50,000 onwards This highly secure software provides a one-of-a-kind solution for managing all operations including patient registration and staff, lab, pharmacy and accounting solutions. It can also be implemented in multiple locations and be customised by doctors and their staff.
See more here: https://www.hospitalbiz.in/


• Dyn Medlar by Yash Infosystems:
Cost: Up to Rs. 3,00,000 With clinical, back office and overall management features, this software is the one to choose to make your clinic or hospital completely paperless. It has tools for reception management, billing, IP management, accounts and payroll and more while being user-friendly and secure.
See more here: https://yashinfosystems.com/hms1.html


• Datamate Mediware by Datamate InfoSolutions:
Cost: Rs. 80,00,000 onwards Datamate Mediware offers comprehensive tools to keep track of everything from front office administration and inpatient and medical records to general administration, pharmacy, health insurance and housekeeping management. The software leads to cost reduction, elimination of pilferage and wastage, increased communication between various departments, and faster and improved quality of patient care while reducing human error.
See more here: https://www.mediwarehms.com/solutions.html


No matter how small or large your clinic or practice, investing in medical software may just be the best business decision you make. In your quest to equip your practice with the right software, don't let finances come in your way. Get the best software for your needs by taking a Business Loan customized for doctors from Bajaj Finserv. With low-interest rates, easy eligibility, and quick online application, the customised Loans for Doctors from Bajaj Finserv are the perfect solution for your financial needs.
To know more about these loans, click
here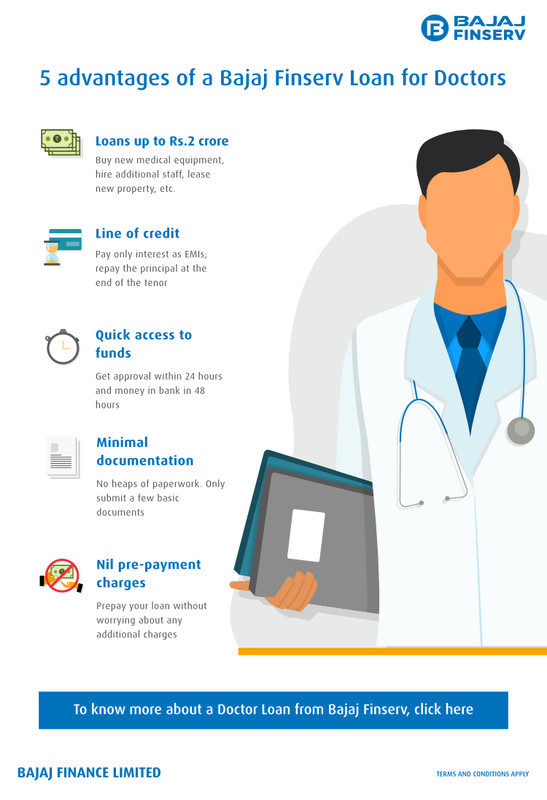 About Author
Bajaj Finserv is an investment management company engaged in insurance, financing and investment businesses. It is the industry's first company to introduce "Loans for Doctor" - A one stop shop for doctor's financial needs that provides an executive suite of customized and affordable loans with exclusive benefits.
Dr. P●●●●●●a K S
and
1 others like
this
1 share