FDA approves first digital inhaler for asthma, COPD
Jan 3, 2019
1276
views
The U.S. Food and Drug Administration (FDA) has approved TEVA's ProAir® Digihaler™ (albuterol sulfate 117 mcg) inhalation powder, the first and only digital inhaler with built-in sensors which connects to a companion mobile application and provides inhaler use information to people with asthma and COPD.
ProAir® Digihaler™ is indicated for the treatment or prevention of bronchospasm in patients aged four years and older with reversible obstructive airway disease, and for prevention of exercise-induced bronchospasm (EIB) in patients aged four years and older.
ProAir® Digihaler™ contains built-in sensors that detect when the inhaler is used and measure inspiratory flow. This inhaler-use data is then sent to the companion mobile app using Bluetooth® Wireless Technology so patients can review their data over time, and if desired, share it with their healthcare professionals. ProAir Digihaler does not need to be connected to the mobile app in order to take medicine.
APPROVED USES
ProAir® Digihaler™ (albuterol sulfate) Inhalation Powder is a prescription medicine used in people 4 years of age and older to:
• treat or prevent bronchospasm in people who have reversible obstructive airway disease
• prevent exercise-induced bronchospasm
Read more here:
https://pxmd.co/brDM4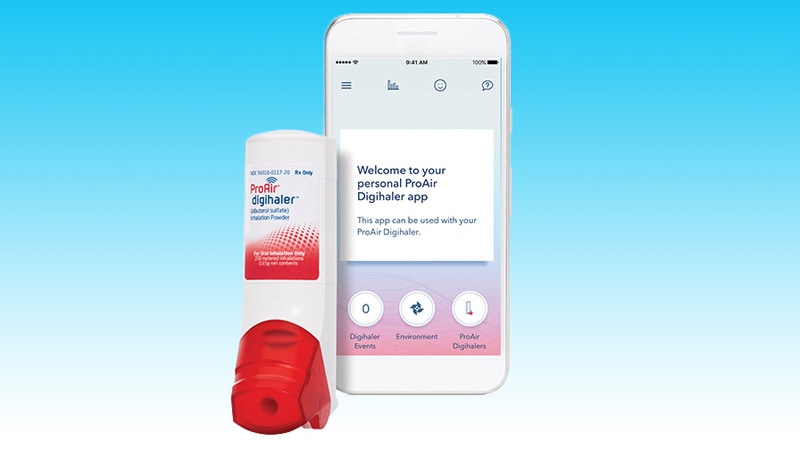 Dr. B●●●●●h K●●●r N●●●●●●●●m
and
8 others like
this
6 shares