An 84-year-old patient, who was diagnosed with severe aortic stenosis, underwent a transcatheter implantation of prosthetic aortic valves using the latest 3D printing technique at a Jaipur Hospital.
Some Interventional cardiologists have started using the 3D printing technology where CT scan images are sent to a 3D printing firm which in turn provides a model of the same heart structure which gives a more detailed access to the heart.
In past, Sawai Man Singh (SMS) Hospital's neurosurgeons had performed a surgery by preparing a 3D model of the craniovertebral junction (CVJ) for correcting the CVJ anomaly, a complicated surgery that gave no scope for error...
http://timesofindia.indiatimes.com/city/jaipur/now-3d-printing-used-to-replace-heart-valve/articleshow/60837776.cms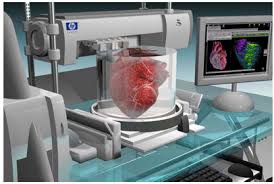 Dr. B●●●l D●●●i
and
1 others like
this