Learn a lesson from this couple: Don't hide an engagement ring in a milkshake!
Dec 9, 2018
1030
views
A lot of guys try to come up with proposal scenarios that their girlfriends will remember forever. So give Reed Harris credit for accomplishing that goal- even if it turned out to be in don't-try-this-at-home fashion.
The idea was a variation on a common theme: Put the ring in a drink and let his beloved discover it. Harris did his part, hiding the ring in the milkshake. But his girlfriend, Whipple ate the entire shake and never found the ring!!
X-ray marks the spot
Instead of marriage, Harris proposed a trip to the local hospital for X-rays. It was only when the technician handed her an image showing the ring inside her that Whipple accepted the truth.
All's Well That Ends Well
So, with X-ray image of the ring in hand, Harris got down on bended knee and asked for Whipple's hand in holy matrimony. A friend captured the tender moment in a picture that shows him looking at the camera with a sheepish grin and Whipple sitting with a big smile on the couch: holding the X-ray of her ring.
Read more here:
https://www.today.com/news/gulp-she-swallowed-her-own-engagement-ring-wbna29462344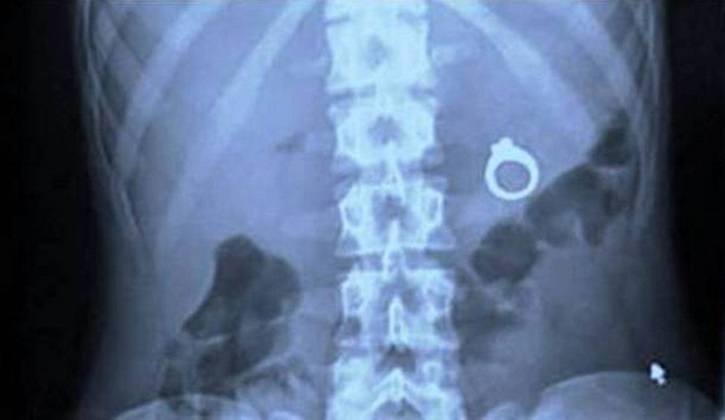 R●●●l D●y
and
20 others like
this
16 shares