Telemedicine in India: A Revolution in Healthcare Delivery
Telemedicine is defined as the delivery of healthcare services using telecommunications. It helps doctors evaluate and treat patients without an in-person visit. For instance, if a patient, who lives in a remote area wants to avail the services of a doctor from another city, their auxiliary expenditure on travel and accommodation may be in excess of the consultation charges, making such a visit prohibitive. Telemedicine helps in minimizing these auxiliary expenses by delivering clinical care through live video conferences.
Features of a Telemedicine Unit
Telemedicine is currently a revolution in the field of healthcare. Statistics project that there will be 7 million telemedicine users worldwide by the year 2018, an approximate 180% increase over 2017. Therefore, it becomes important for the doctors and physicians to incorporate telemedicine into their daily practice.
Setting up an efficient and reliable telemedicine unit requires in-depth knowledge about the hardware, software, personnel and finances to cover costs.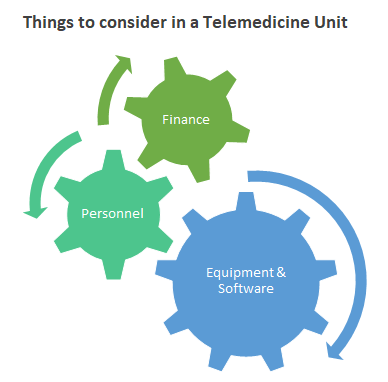 A: Equipment and software:
The equipment required to set up a telemedicine unit include:
Telemedicine carts: Telemedicine carts contain monitors, cameras, speakers and microphones, which help doctors to meet their patients virtually. A good telemedicine cart features pneumatic height adjustment, flexible handles for easy movement of the cart, antimicrobial work surfaces, high definition cameras and mounted monitors with which to view the patient. The most common ones in use are:

Patient Assessment Terminal (PAT): The PAT is a permanent wall mount and acts as a terminal for telemedicine consultation. It uses cameras to monitor the patients.
Clinical Assistant: The Clinical Assistant is a basic, light-weight, portable terminal and is the best choice for organisations that are just beginning to offer telemedicine services because of its basic set up.
Portable TeleClinic: Portable TeleClinic is a portable box equipped with an integrated tablet for communications and medical devices with which to conduct clinical examinations

Medical devices Telemedicine is incomplete without medical devices that are used to evaluate and diagnose medical conditions. These portable medical devices can be added to the telemedicine carts. They are as follows:

Examination camera
Stethoscope
ECG
Spirometer
Retinal Camera
Ultrasound
Vital Sign Monitor

Software: Telemedicine software provides good user interface through which patients can chat with the doctor. Some of the softwares available for telemedicine are:

Doxy.me
WeCounsel
eVisit
Sherpaa
VSee
Zoom
B: Team:
A good telemedicine team is essential to deliver the best quality of healthcare services and should comprise the following members:
IT representative: The IT representative takes care of the telemedicine devices, keeps the equipment and software updated and also trains the personnel who take care of the equipment during a virtual visit
Clinical team representative: The clinical team representative is responsible for assessing the patient's clinical condition and planning the patient's clinical management
Inventory manager: The inventory manager's role is to maintain and track all equipment except the hardware and software (looked after by the IT representative) and coordinate the process of their installation and de-installation. The inventory manager also deals with the financial aspects involved in running the telemedicine unit
C: Costs:
The cost of setting up a telemedicine unit depends on the types of services provided. The overall cost might look like this: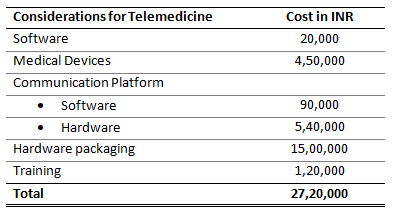 Telemedicine is an up and coming sector in the healthcare space that aims at bridging the gaps that the current system entails. It can be as simple as interaction between two health professionals over a telephonic discussion or as complex as transferring medical records electronically and organising a real time interactive medical video conference. Given its wide range of elements and its increasing need, Telemedicine continues to be in demand across the globe.
This educational content is presented by Bajaj Finserv.
Whether you want to expand your clinic, buy new medical equipment, finance your child's wedding, or buy a new home, a Doctor Loan from Bajaj Finserv is the answer to all your financial needs. A suite of four loans - Personal, Business, Home loans and Loan against property, these loans are tailor-made to meet all your personal and professional needs. These loans come with benefits like:
Loans up to Rs. 30 lakh
Approval within 24 hours
Line of credit facility
Minimal documentation
To get in touch with a Bajaj Finserv representative, click here:
bit.ly/doctorloanproduct
To know more about the different loan products designed for doctors, watch this video:
About Author
Bajaj Finserv is an investment management company engaged in insurance, financing and investment businesses. It is the industry's first company to introduce "Loans for Doctor" - A one stop shop for doctor's financial needs that provides an executive suite of customized and affordable loans with exclusive benefits.
Dr. P●●●●a R●●●a
and
3 others like
this