6 year old Megan has a rare genetic condition called Prader Willi syndrome the symptoms of which includes constant hunger, learning difficulties and behavioural problems.
About 70% of cases occur when part of the father's chromosome 15 is deleted. In another 25% of cases the person has two copies of chromosome 15 from their mother and none from their father. As parts of the chromosome from the mother are turned off they end up with no working copies of certain genes.
When suffering from the Prader Willi syndrome, the child becomes constantly hungry which often leads to obesity and type 2 diabetes.There is also typically mild to moderate intellectual impairment and behavioral problems. Often the forehead is narrow, hands and feet small, height short, skin light in color, and those affected are unable to have children.
In order to keep Megan from eating all the time and becoming an obese, her mother has structured her meals every 2 hours which has helped her in living a healthy life...
http://www.bbc.com/news/av/health-41574780/the-little-girl-who-is-always-hungry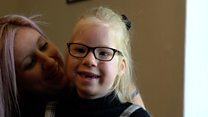 Dr. J●●●●●●●h K●●●●●●n
and
3 others like
this